Secure the Perimeter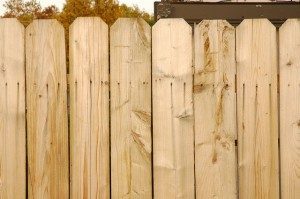 First and foremost, protect your property by attacking mosquito breeding grounds. Mass extinction is preferable.
Trim your grass and hedges to expose any standing water. You don't need to scalp the lawn, but do keep in mind that it only takes a teaspoon of water for mosquitos to hatch.
Check gutters, garden beds, and any equipment for standing water that mosquitos could use for breeding. Get rid of all exposed standing water.
 DIY Citronella Torches!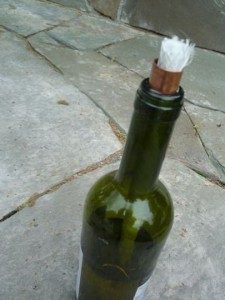 Some studies claim that citronella can only provide a mosquito deterrent for approximately 20 minutes, but anyone who has used citronella in their backyard knows that they are usually much more effective than that. And even if they do have a limited lifespan, isn't it better to keep lighting citronella torches and candles than to spray harsh chemicals on your body?
Making your own citronella torches is easy, quick and cheap. First, you'll need an empty wine bottle for each torch (here's a good excuse to drink a bottle of wine tonight!). Next, gather the following supplies:
· Tiki replacement wick
· ½" by 3/8" copper coupling
· Nylon thread seal tape
· Citronella torch fuel
Take the seal tape and wrap it around the copper coupling as many times as needed for it to fit firmly into the wine bottle. You can also use a beer bottle if you do not have a wine bottle on hand. After this has been completed, insert the wick into the reducer. After which, you will need to fill the bottle you selected with Citronella fuel and insert the wick. Give the wick some time to absorb the oil before you light it. After enough time has passed, you will be ready to light this DIY citronella torch and scare off the mosquitoes!
h/t to Apartment Therapy