Natural Mosquito Repellents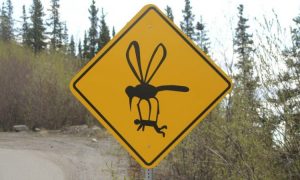 A citronella torch is a great idea for your property, but what happens if you have to go somewhere? This could be especially problematic after the SHTF because you will probably want to stick to the woods as much as possible.
Fortunately, there are many proven insect repellents available. Some of them, of course, stink like bug spray. Others are actually fairly pleasant.
RELATED: DIY Coffee Insecticide and Other Natural Pest Control Concoctions [STEP-BY-STEP]
Your personal risk factors and family situation will impact which repellents you choose. The CDC lists several natural and chemical repellents as effective against mosquitos. However, just because you're wearing one of these "repellents" that doesn't mean you're completely safe from bites.
1. Oil of Lemon Eucalyptus

This natural remedy has been proven to be just as effective as commercially available products made with 6.65 percent DEET.
If you don't have access to the oil of lemon eucalyptus that is made specifically for repelling bugs, you can make your own by mixing one part oil of lemon eucalyptus essential oil with 10 parts of witch hazel or sunflower oil.
Please note that this mixture is not safe for children under the age of three.
Image found on amazon.com